Published on March 31, 2022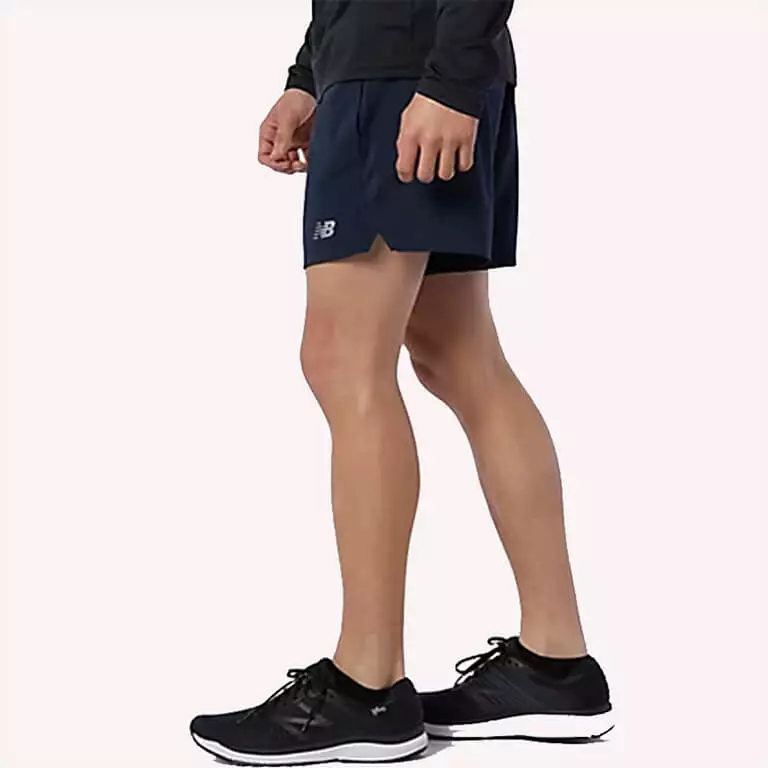 Running shorts are necessary items a runner will need before going out for a run if you prefer shorts to leggings. Some runners prefer running in shorts the entire season. Picking the right pair of shorts can be challenging. It will be best to have shorts that don't climb upwards or keep you heated up when it gets hot. In most cases, a new runner chooses to wear any pair of shorts available, making running uncomfortable and less exciting.
Suppose you're running in a critical or fair trial, smooth road, cold or hot weather. In that case, there are pairs of shorts made specifically for certain running conditions.
Get a good pair of shorts that meet your running needs. We understand that it is always a difficult choice, so; we've outlined the things to consider.
LENGTH
Running shorts have varying leg lengths. They can be long, medium, or super short. Your running short's length, size, and style lie on your personal preferences because no strict rules are applicable here. Still, understand that the short lengths have different exciting features that may work for you.
Short Length
Watching marathons, you will see runners wearing shorts that cut high above their thighs. Because of its technical construction, it is the most preferred short length by athletes. At three inches long, it has no restriction that can impede a runner's strides in a marathon and sprinting. They are also lightweight. Long ones tend to drag the strides by restricting leg extension, unlike shorter shorts.
Medium length (5 inches)
It is two inches longer than the short length running. It is very likable among runners because of its versatile style for any running and terrain. The medium-length short can handle any training activity. It is also unrestrictive and lightweight.
Long length (7 inches)
There are four inches longer than short-length running shorts. They are not popular among marathon runners because they tend to climb above the thighs. If you are into long-length shorts, you need to look at features like the wicking capability of the fabrics and thickness. In essence, breathability is essential. Long-length shorts are excellent for short runs.
What is the recommended short size?
The length of running short depends on running distance. The disadvantages of wearing longer pairs of running shorts are that they tend to retain heat and are restrictive. It is better to go for shorter running shorts on a hot day because they are less stringent and have excellent airflow. Long-running shorts are perfect for short-distance running, especially on a warm day.
TYPES OF RUNNING SHORTS
Compression Shorts
Compression shorts are those that fit tight against the body, especially the thighs. They have an excellent snug design that goes further to support the muscles. They are also stretchy and not restrictive. Because of their flexibility, they don't hamper stretching strides. They are suitable for distance running and muscle recovery. They come in varying lengths, so go for the one which fits your style preference. But choose comfort above style. CompressionZ Men's Short and Colorfulkoala Women's High Waisted Biker Shorts
The V-notch
V-notch is named after an upside-down V shape cut out on both sides of the leg. The V cutout is there to increase range motion compared to if it remained intact. They have loose fitting. The V-notch is also a trendy style.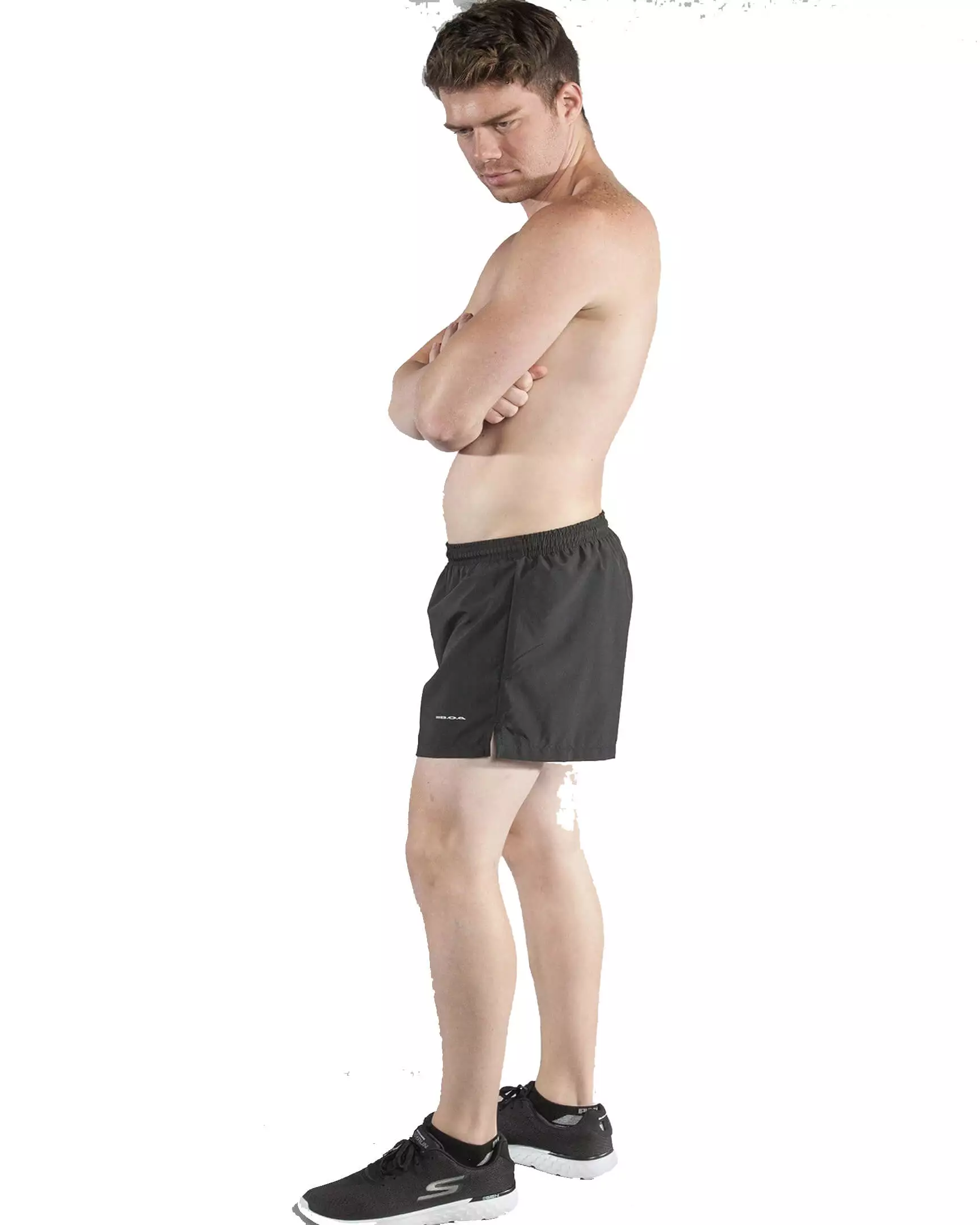 Split Running Shorts
Split running shorts bear some similarities with v-notch shorts. The difference is that an overlapping fabric creates the "V" split on each leg. The splits vary in length, and the impact of such design is the creation of a more flexible range of movement than in V-notch shorts. The inseams are also shorter. Adidas Own The Run, BOA Mens 3.75" V-Notch Running Short and Intensity Women's Pro Mesh V Notch Short are examples of best V split running shorts.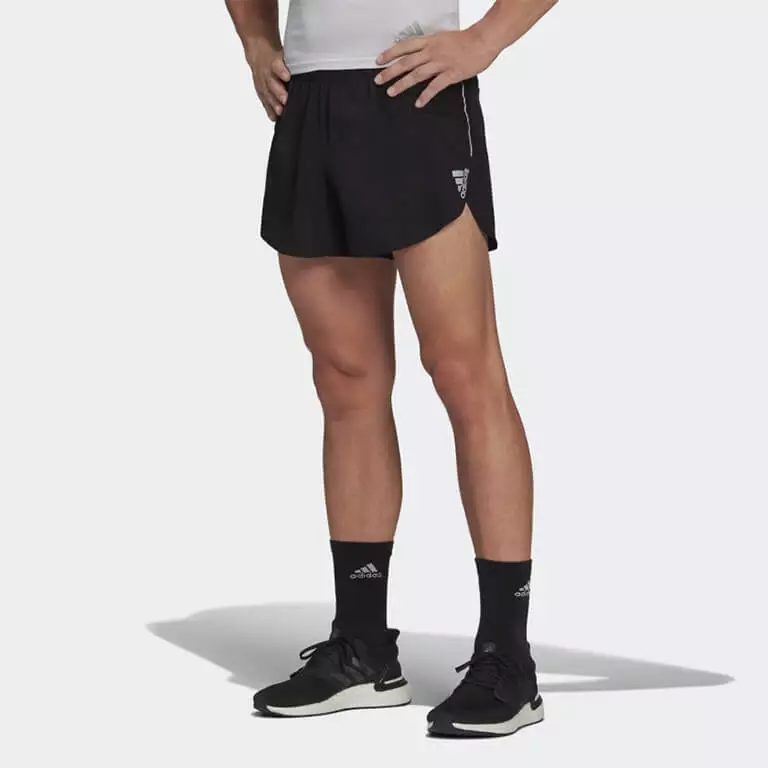 CHOOSE RUNNING SHORT BASED ON TERRAIN
Now that you understand the various running shorts lengths and short styles. The next step is to make your choice based on your running activity.
Running Shorts for Tracks
Track runners are always aggressive runners. They prefer shorts that give them the freedom to move their strides. The most preferred shorts for track runners are lightweight short-length running shorts. Compression shorts also work well for aggressive track runners because they hold the muscle and offer non-restrictive fitting for total freedom of movement. Other options are the v-notch and split shorts because they are super lightweight and non-restrictive. The New Balance Accelerate 5-Inch Short is one of the best track running shorts.
Running shorts for Road Runners.
Road running is not as aggressive as track running. All you need is a versatile running short that you can use any time of the day and any weather condition. Consider wicking lightweight and breathability to keep you aerated throughout the run. Other features you must factor in are reflective elements for visibility, especially if you run in the evening or early morning. A medium-length short is suitable for a roadrunner because it comes with a more relaxed fitting. The Nike Flex Stride Short is excellent road running shorts.
Running Shorts for Trail Runners
Trail us a critical running environment where you come across shrubs or tall grass. A trail runner needs a strong pair of shorts that can withstand the harsh environment. Trail running shorts come with extra protection. They are pretty heavier than track and road running shorts but possess the elements of comfort, support, and moderate compression. They are usually two-in-one pair of shorts. The inner one has mild compression while the outer layer is loose. They also have zipped pockets. Besides, trail shorts are versatile. They are also for road running.
Salomon S/Lab Short 6, RAB Talus Shorts and Dynafit Vertical Shorts are among the best trail running shorts.
ARE YOU CHOOSING THE RIGHT FABRICS?
Running shorts also come in natural or synthetic fabrics like running shoes or vests. You need running shorts that don't retain moisture or sweat. Sportswear manufacturers have discovered that polyester-spandex blends and polyester make the best running shorts. These synthetic fibers are not only durable but are also lightweight and have excellent moisture management. They are better than natural fabrics like cotton. When running in cotton running shorts, expect chafing, moisture absorption, and overall discomfort. You will have a bad experience. Hence, when choosing fabrics, avoid:
Avoid nylon or cotton clothing. They hold moisture, and it will make your training session a nightmare.
If you have limited options, you may opt for mesh-like fabric. At least it will keep you dry throughout the run. However, consider going for polyester. Besides, don't overlook the underwear. It must allow moisture to escape. If you doubt your underwear choice, you are better off running in shorts with inbuilt liners.
Extra Features
Apart from the fabrics, length, and types, running shorts have extra exciting features that suit various needs.
Visibility features
The reflective colors make you visible in a low-lit environment, thus guaranteeing your safety when running. The bright colors also spice things up. Wearing running shorts with bright colors can be fantastic.
Pockets
Running shorts can come with zipper pockets for securing belongings like phones. Some shorts have pockets hidden by bands, and they come in different sizes, like small enough to hold your keys or big enough to carry a phone.
.