There are thousands of running belts in the market. However, it isn't easy to get the right one that does not bounce, chafe or pull your back, more so if you are someone who knows one or two about running belts. Unfortunately, some do not know what to look for, and so they pick the wrong ones, and the cycle continues. At longermiles, we help you identify very critical features when purchasing a running belt for logging miles.
Things to look for in running belt
With thousands of running belts at your disposal, it is not easy getting the right choice. There are key features to look for:
Pouch size

The right fit

Weight of the running belt

Ease of accessing the pouch

Sweat-wicking capability

Basic extras
Pouch Size
The pouch is a crucial feature you must consider when making a purchasing decision. When going out for a run, you may need to carry essentials like your Smartphone or music gadget. If you are doing long-distance running, you may need to bring some cash, protein bars, and a water bottle.
On the other hand, when doing short runs, you may take with you fewer things than when planning for long-distance running. Other factors are the size of your essentials. For instance, you may carry an iPhone that is bigger than the standard size. So, you will need a larger size or one with an additional phone pocket.
In a nutshell, the size of the running belt depends on what you intend to carry with you. However, also consider a belt that can sit comfortably against your back. Above all, go for that one that fits your needs and style, and in case your phone is large, take time to read the product description to ascertain if the phone will fit.
We recommend Bolt Fit Running Pouch.
The Right Fit
Fitting is not only about the waist but also entails other factors like ideal positioning. For instance, the running belt you intend to buy should have the pouch positioned at the belly-bottom but not around the hip because it will slip. You are better off with the one with adjustable straps.
The best way to get the right fit is by measuring your waist before you start shopping. It will ensure that you get the one that fits you well and doesn't bounce as you run.
We recommend that you go for a running belt designed with silicone grippers. They are excellent for preventing the belt from moving up the wait or bouncing or the belt. Besides, they are soft, durable, and don't cause skin irritation. Finally, while looking for the right fit, ensure equal weight distribution because lack of it may disrupt your balance and running gait.
Ease of Accessing the Pouch
Do you constantly check on your phone or operate it when running? How often do you use the phone as you run? If you do, it would be best to have easy phone accessibility. For instance, have a pouch with easy zipping or a visible touch-screen window to enable you to use the Smartphone without removing it from the pouch-like Se7enline Running Belt with a Window.
The headphone port should also be easily reached or should have loops for holding gels like in Fanny Packs Running Belt. Again, go for a running belt that allows easy accessibility to the things you need when running.
Sweat Wicking and water-resistant
Do not ignore the wicking capability of a running belt. It will help if you have something that can keep you as comfortable as possible. Check the material used to make the running belt.
Is it lightweight, thin and breathable, elastic, and durable? Go for materials with heat-regulating features and do not soak with sweat. You may find yourself running in a drizzling condition, and you want your valuables not to get drowned in rainwater. Find a running belt designed from a water-resistant material.
We recommend that you get a running belt designed with neoprene, which is a water-resistant fabric. It is also lightweight, stretchy, breathable, elastic, and durable. We recommend Fitletic Running Belt.
Water Battle
For someone doing long-distance running or anything above a 5k, you need to stay hydrated throughout the run. Staying hydrated reduces dehydration and keeps your legs strong. It would be best if you carried a water bottle with you. But the size of the battle will depend on the distance you intend to cover and hydration needs.
There are different running belts with battle pouches. There is a fully loaded running belt that can carry one to two water bottles. A simple running belt has one bottle pouch.
Or get a running belt that can slide nicely into your holster. However, ensure that the holster has good grip and also easy accessibility. The bottle should be able to slide in and out quickly and single-handedly. We recommend PYFK Upgraded running belt.
Weight of the running belt
It is not advisable to carry around a heavy load, especially when doing long-distance running. Instead, go for the lightest running belt if you are a petite runner. Fewer loads will increase your running efficiency, and you will be able to clock many miles comfortably. But don't compromise on comfort. While checking the weight of the running belt, also consider the waistband. It should be broad and plush.
Consider basic extras
Depending on your style and running needs, look for additional extras like:
Sunglasses pouch

Bottle hostler

Interior pockets

Phone pocket

Reflective elements or colors for visibility

Loops for energy gel packets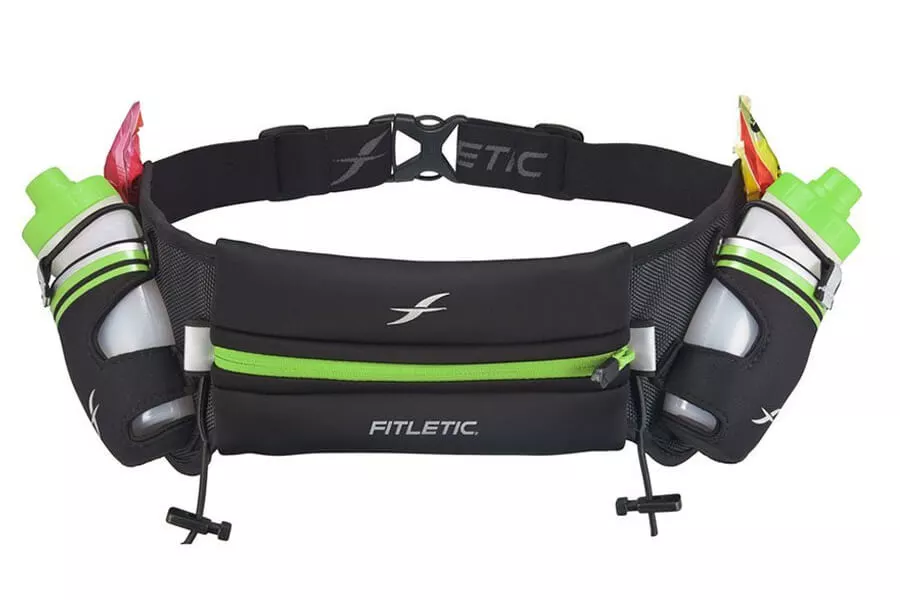 Authored by Ashley Amanda and Philip Brady