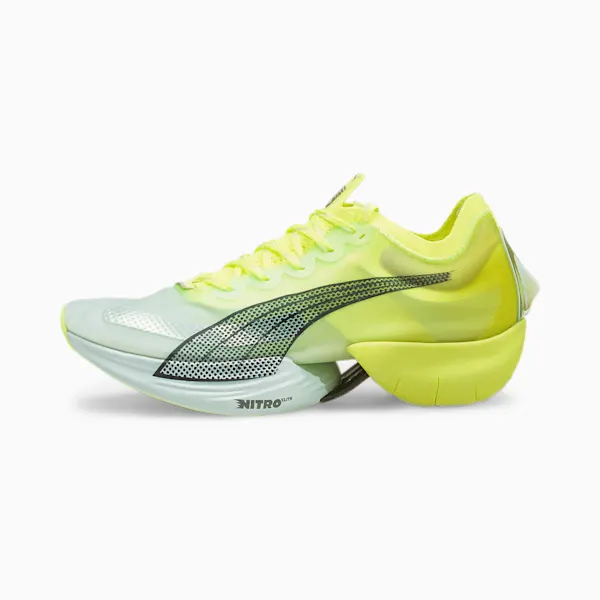 Recently, Puma has been sequentially launching exciting running shoes for long-distance running. In February 2022, Puma released Puma Nitro Fast-R Elite, a neutral Rod carbon fiber plate racing shoe. The Nitro Fast-R Elite is a mind-blowing marathon racing shoe with a sock-like fitting, highly breathable mono mesh upper, and a fascinating design.
It also has the right stack height for a marathon shoe. The midsole has an 8 mm drop, with 38mm on the heel and 30mm on the forefoot. Hence, it is just slightly below the maximalist shoe category. It is also a lightweight racing shoe. For instance, the US size 9 weighs about seven ounces.
The upper of the Puma Fast-R Nitro Elite is crafted out of a single-layer mesh with a combination of knit material, especially around the collar. The inner layer around the ankle has little padding for comfort and enhanced snug-fitting. The heel pocket has some padding, too but not soft padding. According to the designers, the rough padding in these areas creates significant friction with the socks to reduce slippage.
The tongue is semi-gusseted and thinly padded, and complemented with a flat lacing system to reduce the pressure on top of the foot. The laces are pretty elastic and work well in enhancing lockdown.
The toe box of the Fast-R Nitro Elite has excellent aeration; it is roomy and hugs the foot.
The most significant takeaway from the Fast-R Nitro Elite is its balanced aesthetic and performance aspects of the upper design. The Puma Fast-R Nitro Elite's upper has a fashionable appearance, is breathable, and fits true to size.
Puma is known for the high-performance Puma Elite foam, and it had to feature in the Puma Fast R. The dual-density foam flares out for wide foot landing and is highly responsive and stable. The elite foam and the fiber plate offer an excellent energy return ideal for marathon running. Longermiles.com talked to a few runners who took a quick chance to purchase Puma Nitro Fast-R. They reported positive experiences. The power plate within the midsole is exposed.
Generally, the heel is well-cushioned, and the forefoot is significantly reactive for proper propulsion, while the PUMAGRIP guarantees traction and stability.
Micah, an aspiring marathoner from Florida, has positives about Puma Nitro Fast-R. "I think it works like I expected. It is stable and fast and performs well in a range of terrains, including sand, tarmac, and concrete. The stability aspect is the same whether running downhill or up the heel. I really love it, "Like Micah, most runners have admitted that Puma did not go wrong with the power plate.
What to expect
True-to-size

Roomy toe box

Good lockdown

Comfort

Squishiness