By Mark Ortiz, sports Enthusiast
Published: November 1, (2022)
The Under Armour Curry Flow series has experienced seasons of impressive success. After releasing Curry 9 a few months later, Under Armour released the UA Curry Flow 10.
The New Under Armour Curry Flow 10 is Steph Curry's 10th Signature sneaker and is the epitome of accomplishment. Curry 10 represents ten years of four championships, eight NBA all-star appearances, two-time league MVPs, and One NBA finals MVP.
Therefore, Under Armour Curry Flow 10 highlights the years the 34-year-old basketball legend has been with Under Armour.
When speaking to Jarrel Hariss of Sports Illustrated about the new release, Steph Curry explained that the UA Curry Flow 10 is a step in the right direction in regard to innovation and technology and carries the identity of Curry 8 and 9. "We want all the Curry models to be people's favorite." He says.
Therefore, according to Steph, the new Curry 10 is about rubber-stumping Curry's identity.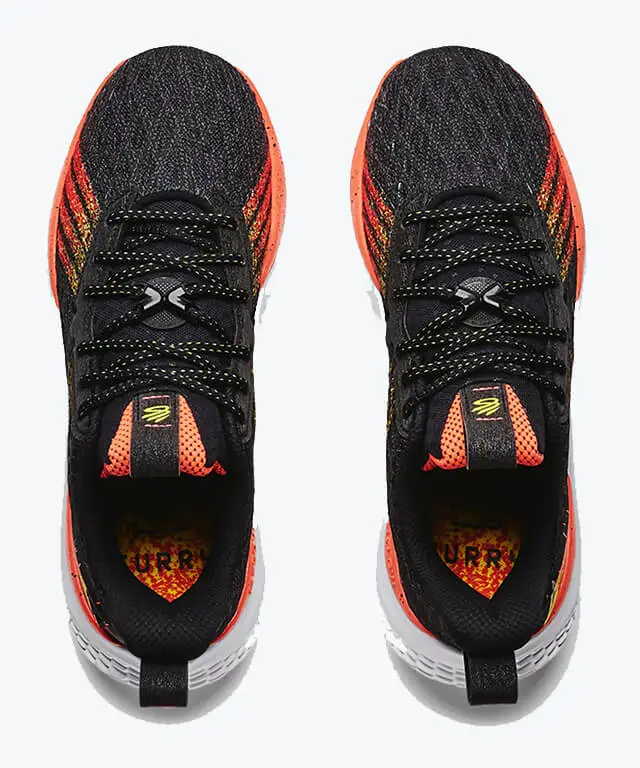 The upper mesh appears similar to what we see in the Under Armour Curry Flow 9. Still, according to Under Armour, this new version features a 2.0 WARP technology. True to their word, the upper of the Curry 10 is more refined than the upper materials used in the Under Armour Curry Flow 8 and 9.
The upper has additional support features outlined within the colorways, for instance. These orange overlay stripes also add up as aesthetics. The stripes also indicate key support areas. Players are guaranteed forefoot, midfoot and heel lockdown. In addition to the overlays and plastic heel counter, the midsole foam extends upward in the form of a beefy heel counter and blends seamlessly into the upper layer. The tongue is super padded and features perforations for enhancing breathability.
The midsole and sole constructions are a continuation of the previous version. It has one layer of Flow foam with well-patterned grooves on the outsole rubber for optimum traction. That is, the cushioning setup is also the tracking setup, and the midsole doubles up as the outsole.
The Flow foam has a good reputation for being grippy like glue. The Flow midsole cushioning feels firm but with a lot of stability and a substantial ground feel. The designers understand that stability is critical for shooters and could be why Steph Curry keeps bagging three-pointers with his signature Curry shoes.
This shoe looks amazing. It seems similar to the Curry Flow 9, especially from online pictures, because the images don't reveal all the crucial details. But this is not the case when holding it. The small and exciting details set it apart from the previous version. It is far much 'cooler!'
There is a possibility of most sneaker and basketball lovers embracing the UA Curry Flow 10, considering the successes of the previous versions and subsequent modifications that set it apart from others. It is stunning and exhibits high-performance attributes like grip and excellent attributes associated with the Steph Curry shoe models.