Shin Splints is a common running injury experienced by about 35% of athletes or runners. It is a pain in the lower legs, a common occurrence caused by the muscle tear around the shin bone or tibia.
As a beginner or someone resuming running or training routine after a long break, you should be wary of picking up shin splint injuries. In most cases, shin splints occur when the tissues are responding to strain. The strain may be caused by running in worn out or unsupportive shoes.
Unsupportive shoes are shoes that lack a thick sole for absorbing shock in addition to protecting the feet from scratchy elements. They also lack adequate room around the toe areas to enable the toes to wiggle freely. Besides, they have heel-counters that cannot hold down the feet when running or sprinting. Finally, they have poor cushioning.
Other causes include:
Running on hard, arched, and cambered roads or surfaces.

Having flat feet or high arches. Several studies have confirmed that athletes or runners with flat feet often suffer from shin splints injuries.

Suddenly increasing training volume. It means that if you suddenly do excess running before preparing your body for a new strain, you are likely to suffer from shin splints.
How to Manage Shin Splints
You need to wear shoes that can control the movement of your feet, more so if you have a flat foot. It is because flat feet encourages excessive overpronation and dragging under the feet. To curtail the situation, you need shoes with broad and rigid sole base and solid heel counters. These key features help steady your heels by holding them onto neutral positions, thus, preventing overpronation when running.
Also, if you have a high arch, it means you have a rigid foot. In this case, you do not require motion control but shock absorption. Wear well-cushioned shoes.
If you are experiencing pain in the shin during or after a run, consider buying quality shoes that give you excellent foot positioning and sufficient cushioning for ground impact.
Best Running Shoes for Shin Splints
1) BROOKS GLYCERIN 17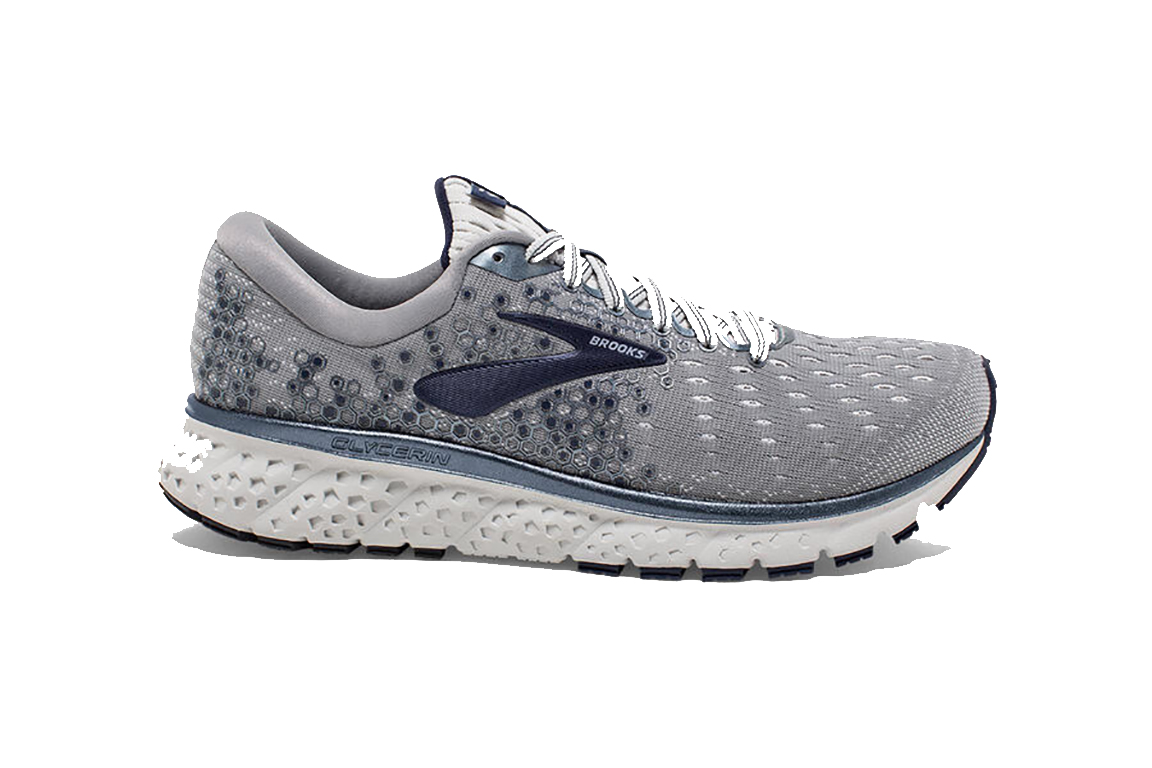 Because it offers excellent foot positioning and performance, Brooks Glycerin 17 is one of the top shoes for someone with shin splints problems.
It has DNA Loft cushioning to give you a smooth springy transitioning and a soft ride. The guide rail extends to the upper area (slightly above the midsole) to guide the foot to a natural position, thus preventing overpronation.
The insole is well-cushioned to give you a soft feel. It comes with Ortholite sock liner which provides you with a plush feel. The soft paddeding helps reduce the ground impact while offering excellent energy return.
The upper layer is a 3D fit technology, double jacquard mesh engineered for flexibility and breathability. The flexible upper layer offers a secured fit and a lightweight feel. If you have flat feet, the roomy toe box, and the elastic upper layer will guarantee you a perfect fit.
The outsole is supple or responsive enough to allow you relax your feet when running and this averts muscle pains.
Brooks Glycerin 17 has a 10mm heel drop with a medium arch. Due to its orthopedic design, it is an excellent choice if you have shin splints.
Cons
It is quite expensive but durable
2) ADIDAS SUPERNOVA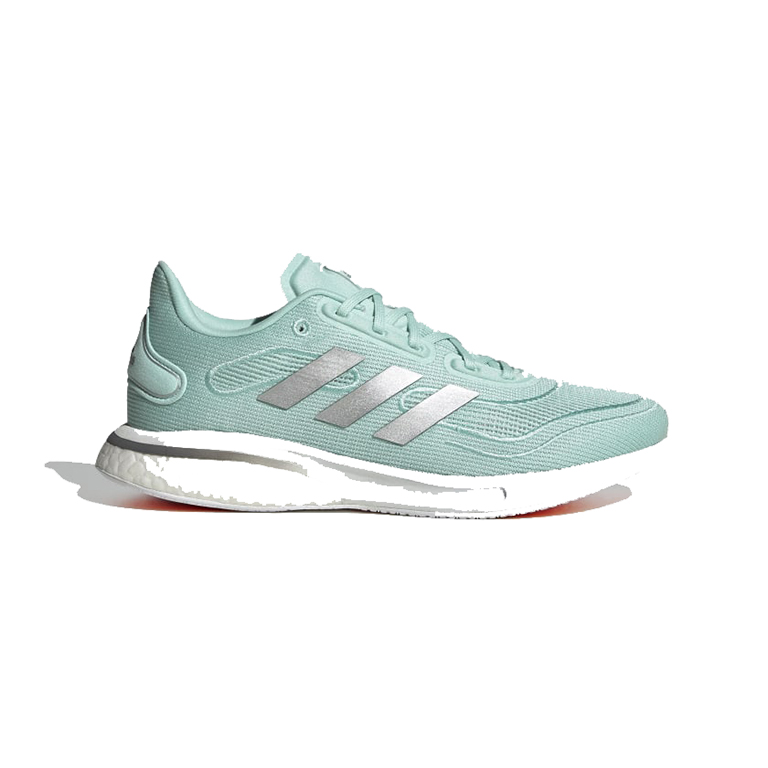 Adidas supernova is an update of the Supernova Glide. Despite being a neutral shoe, Adidas Supernova is one of the best shoes for curtailing shin splints problems. It is a well-balanced shoe with superior cushioning.
The midsole boost is made of lightweight TPU pellets to give a soft and responsive ride.
Adidas supernova utilizes the Torsion system - a thermoplastic arc that bridges the forefoot and heel – to give stability and support by enabling the midfoot to adjust to the running surface.
It has BOOST foam that sufficiently cushions the heel from ground impact and a flexible rubber outsole for increased traction in both wet and dry conditions.
The Stretch Web outsole offers exceptional stability and energized transition. Besides, the horseshoe-like shape of the heel bottom (rockered heel) increases steadiness as well as smooth heel-to-toe transition.
The upper layer is a breathable mesh, which perfectly wraps around the foot to give a runner a comfortable fit. Also, the heel collar is well-cushioned to provide comfort and enhanced fit.
It has a FITCOUNTER, a heel counter designed to provide a natural fit. The heel counter helps in supporting the natural movement of the Achilles tendon, thus preventing shin splints.
Consider wearing Addidas Supernova if flat feet are the cause of shin splints. Besides, it is a durable shoe.
Cons
It has a somehow narrow toe box. Hence may not be an option if you have flat feet.
3) HOKA ONE ONE CLIFTON 7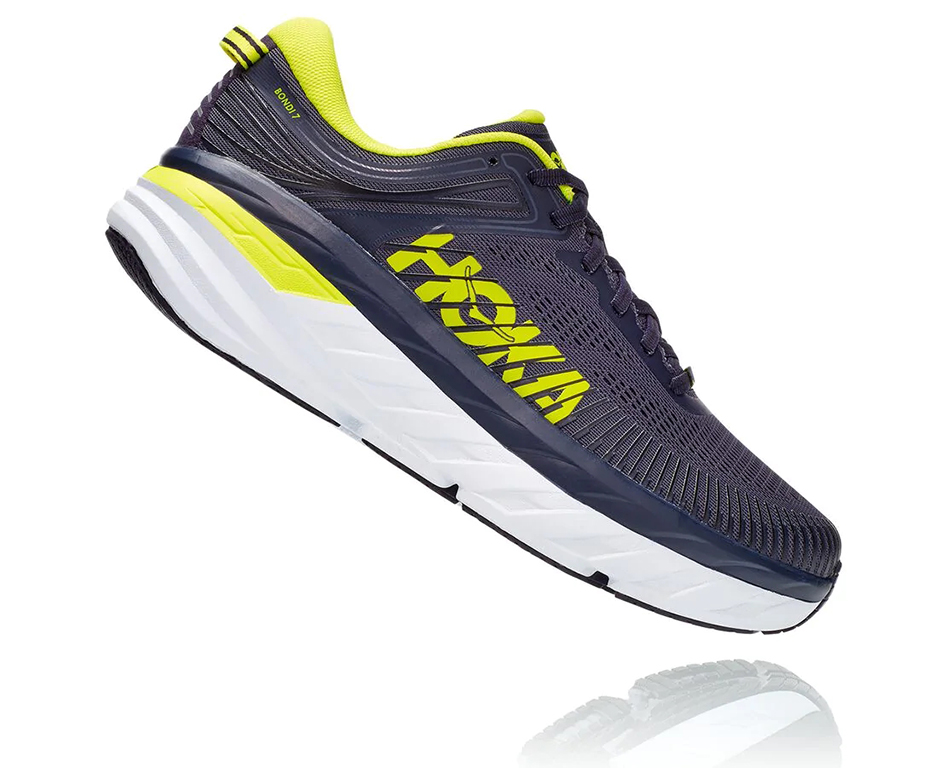 Hoka One One Clifton 7 shoe offers superb arch support. Hence, it one of the best foot running shoes for people with shin splints problems.
Hoka One One Clifton 7 is a road running shoe that offers adequate cushioning and a HIP CMEVA midsole to protect the foot from foot strike landing impact.
The lightweight combined with the early-stage meta-rocker design to give a seamless heel-to-toe transition. Besides, the upper layer of the shoe is made of breathable fabrics to keep the feet dry throughout the long run.
The structural overlays in the midsole allow you to flex your midfoot when running. Also, with sufficient cushioning, Hoka One One Clifton 7 protects your shin splints. The low heel drop helps in maintaining your foot in a neutral position. Finally, this is a durable shoe.
Cons
It has a narrow toe box hence suitable for people with narrow feet.
For some, it has a bulky look.
4) BROOKS RAVEN 10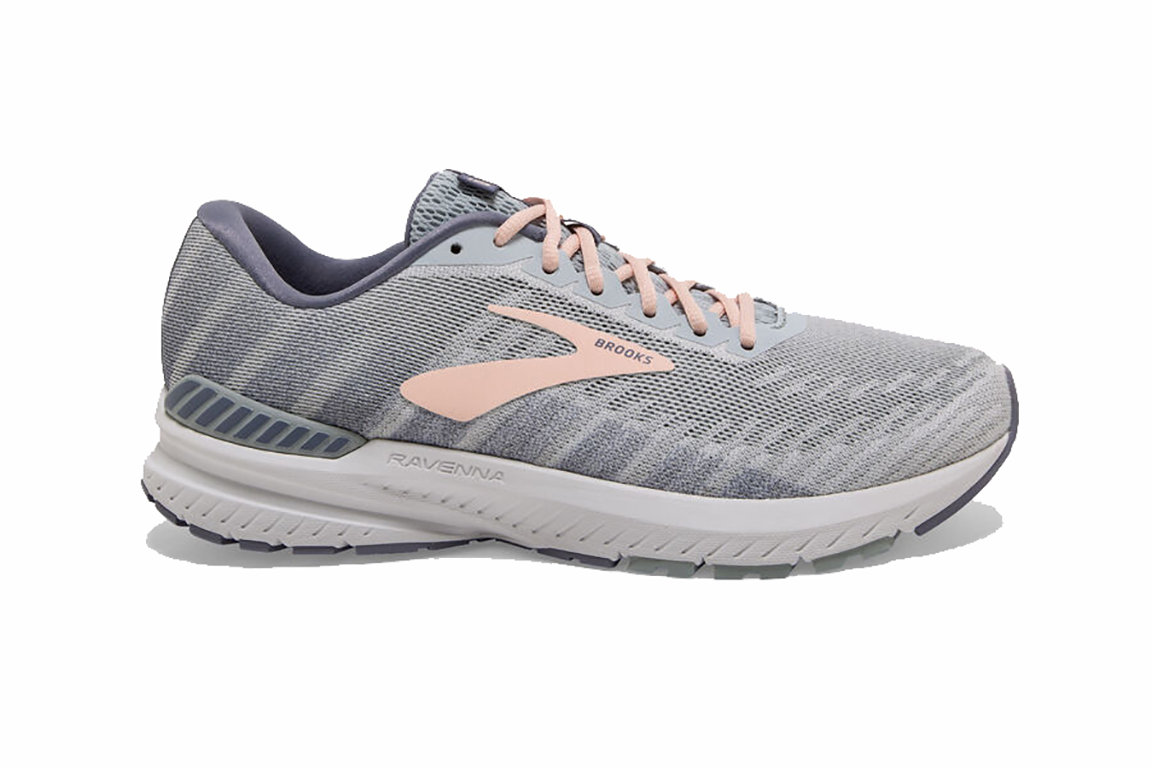 Brooks Ravenna 10 is a combination of frills and stability. It has a DNA midsole that offers customized cushioning and forefoot pods that aids in propulsion while giving you excellent energy return.
It is a support shoe that comes with versatility. Essentially, it serves both neutral runners and runners who need support specifically, those experiencing shin splints. With additional cushioning in the heels and forefoot, Ravenna 10 comes with a plucky feel that triggers you to increase the pace.
It has a guide rail to keep your foot in one place to control pronation. Furthermore, the combination of the guide rail and the grip rubber on the outsole offers stability and traction sequentially. Our testers confirmed that Ravenna 10 can strongly withstand all running conditions.
The upper layer is a comfortable carriage that offers a snug fit and more room at the toe area. The flexible single mesh upper is breathable, sleek, comfortable, and durable.
The midfoot transition zone gives Ravenna 10 a perfect design for a seamless heel to toe transition. Notice the heel counter. It is not only rigid but also accentuates the heel. Together with the heel neck, they hold your foot down during every footstrike.
Heel drop: 10mm
Weight: 8.3oz
5) ASICS GEL-EXCITE 7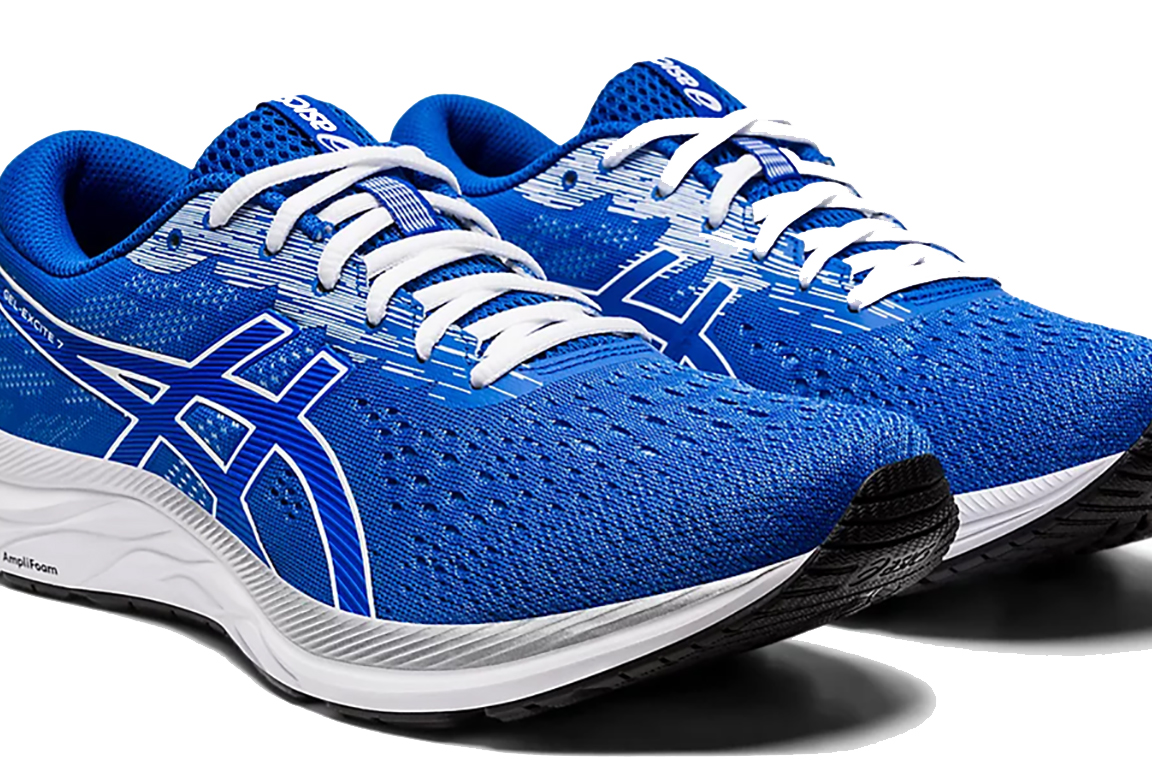 ACICS will never go wrong when it comes to making comfortable, stable, and durable running shoes. Like the ASICS Gel-Nimbus 23, Gel-Excite 7 brings plush comfort, reliability, and durability.
AMPLIFOAM technology in the midsole offers adequate cushioning underfoot to inject excellent rebound in the propulsion stage.
The Gel-Excite 7 has ACICS signature GEL cushioning for reducing shock and landing impacts. Moreover, it has a high abrasion rubber at the outsole for increased traction and protecting the impact zones like the heel and forefoot from wearing out.
The exciting part is that it comes with a removable ortholite sockliner. It means that you have an option to use a medical orthotic in ACICS Gel-Excite 7.
The midsole has counters to give it shape, stability and responsiveness. The hard rubber linking the heel and forefoot accommodates the independence of both zones. It also allows your foot to flex.
The heel counter is rigid but not too restrictive for your heel. It perfectly holds you down when running. Besides the frills in the upper layer, the jacquard mesh offers excellent breathability. The gusseted toe box is for maintaining neutral foot positioning and retain the shape of the shoe. The toe box is also roomy.
Gel-Excite 7 is for neutral and overpronation. It is also a versatile shoe whose price matches its value.
Cons
The toe box may become too narrow for someone with a broad foot.
6) ADIDAS UTLRA BOOST 21
Adidas Ultra Boost 21 is a running shoe designed for just neutral arches. Hence, it is a great running shoe for a neutral runner who experiences shin splints. The design of Adidas Boost offers a runner a seamless heel-to-toe transition.
It has a motion wave midfoot for flexibility and motion control. These features will give you a comfortable ride.
The Ultra Boost 21 has a well-cushioned midsole and innersole to absorb ground impact and give significant energy return.
The horseshoe-like shape is an iconic heel frame that offers sufficient support at both the propulsion and landing stage. Adidas Ultra Boost 21 is a very responsive shoe.
The upper layer utilizes the Tailored Fiber Placement technique that gives the shoe a superb feel and outlook. The upper layer wraps perfectly around the foot to provide a perfect fit.
The heel collar and the mouth perfectly wrap around the ankle to give you a snug fit. Since the toe box is somehow narrow, Adidas ultra boost perfectly fits runners who have narrow feet.
Still, with superb cushioning, support, and stability, Ultra Boost 21 is a go-to if you have shin splints problems.
7) NIKE ZOOM FLY 3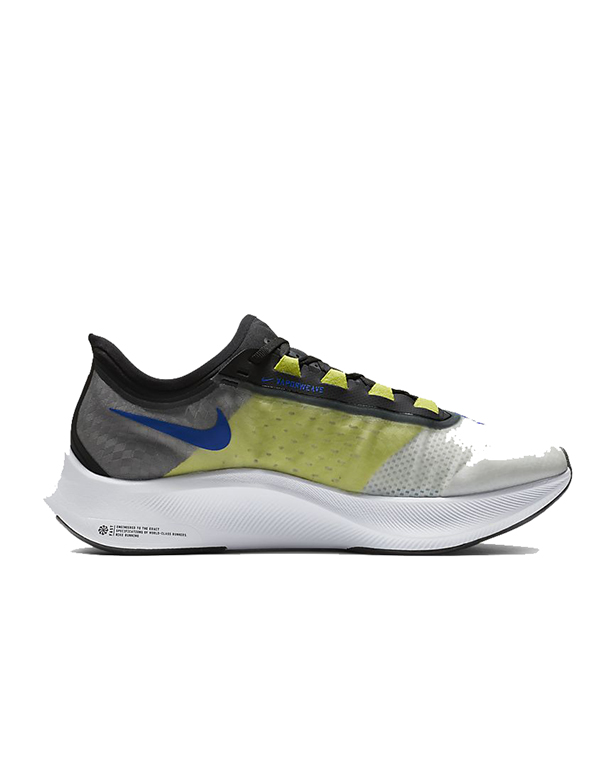 The Nike Zoom Fly 3 as a multipurpose shoe is an embodiment of Nike's innovativeness. It can be for weekday training in the gym or weekend racing.
The inner sole is an ultra-durable Nike React and carbon fiber plate for high energy return. The two components make Nike Zoom Fly 3 a perfect shoe for fast running because they help push you forward. The Nike React Foam at the midsole is a combination of springy and cushiness. It offers excellent toe-to-heel cushioning.
Apart from comfort and durability, the magnificent cushioning increases energy return and helps you run more miles at a fast pace. It also offers stability at the propulsive phase of the gait. Because of its featherweight, the carbon fiber also gives sufficient breathability.
Snug Fit and Secure
Nike Zoom fly has a wide toe area for comfort, specifically if you have wide feet. The roomy toe box allows natural foot swelling, a common phenomenon during an extended period of running or exercising. Hence, Nike Zoom fly fits anyone running full and half marathons.
A Secure, Snug Fit
The upper part is a Vapor Weave fabric (a woven mesh that looks sheer). It is paper-thin, absorbs less water allows for air circulation, especially when doing long-distance running.
Besides, the vapor weave is light in weight to reduce the overall weight of the shoe; hence, making it a perfect maximalist shoe for sprinting. The fiber carbon gives a snappy feeling at a quick pace.
8) MEN'S BOSS RUNNER-X LAST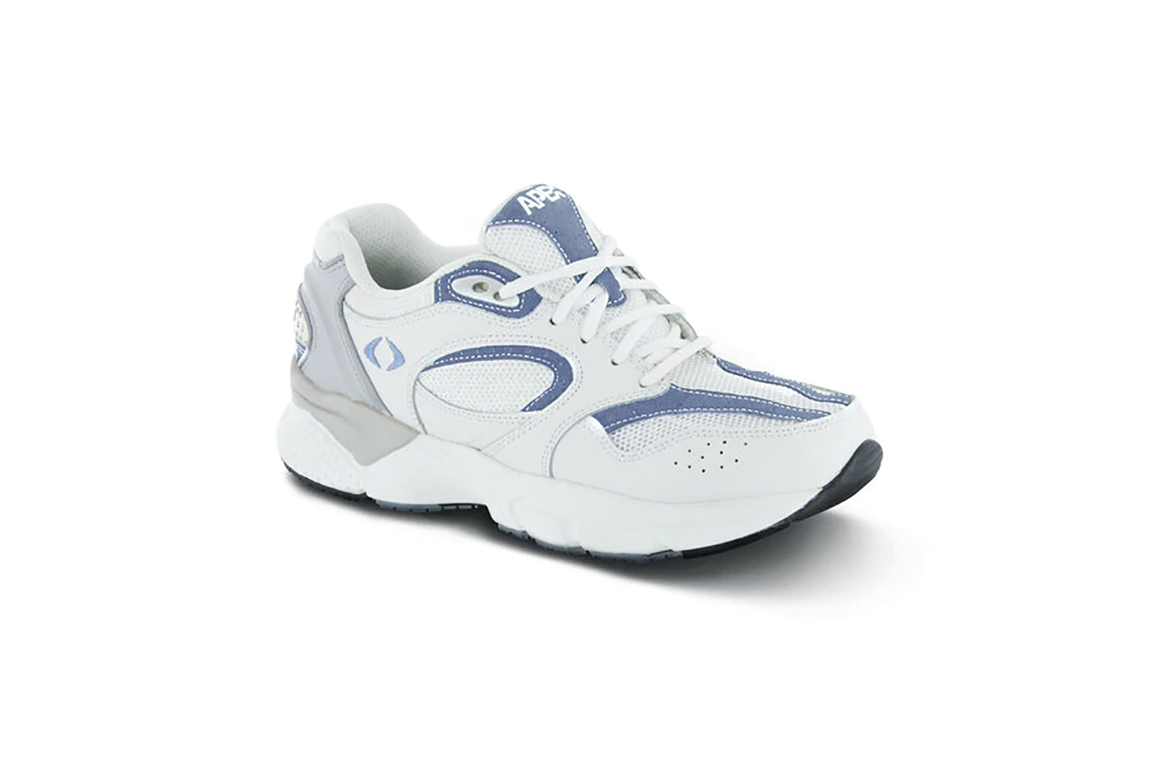 The Men's Boss Runner-X Last is a lightweight running shoe structured with excellent support and cushioning. It is an orthotic shoe that employs manifold cushioning layers for superb shock absorption and comfort.
Men's Boss Runner-X Last works well with arch supports and has enough space in the toe box. The shoe utilizes advanced technological attributes to meet high-performance standard s and comfort. These features include:
It has X-Last foam for superior motion control.

Slip-resistant rubber in the outsole for stability and increased traction.

It has a carbon fiber plate between the forefoot and heel zones for increased steadiness and motion control.

It has two removable layers for flexible fitting.
The tongue, the mouth, and heel neck are sufficiently- cushioned to give you sufficient comfort and a snug fit. The heel counter is well supported to hold your foot down while running. The upper-breathable mesh covers all the heat zones to keep your foot dry.
The Men's Boss Runner-X Last is a perfect shoe if you have pain in the feet or suffering from plantar fasciitis, diabetic feet, arthritis, or if you need adjustability, traction, stability, or have wide feet. The shoe is also built to the utmost standards to protect and support diabetic feet and someone with shin splints.
Cons
Because the toe box is roomier, it creates a loose fit for someone with a narrow fit.

It is too simple for someone who adores frills and style.
9) SAUCONY COHESION 13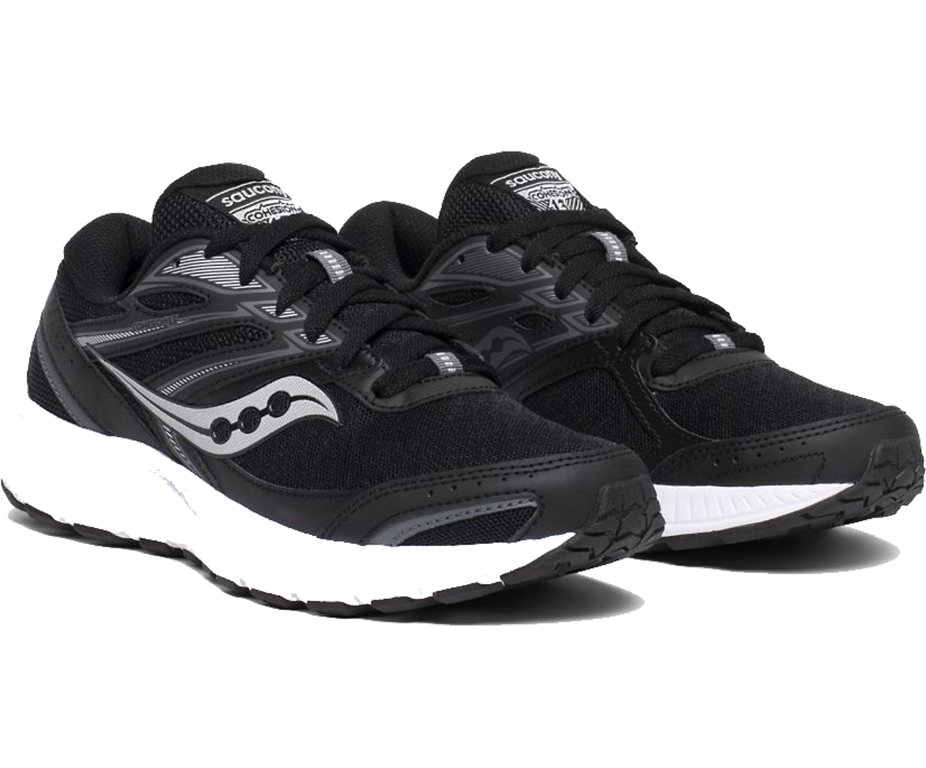 Saucy Cohesion 13 is a shoe that will not only protect your feet but also provide you with enough VERSARUN cushioning to reduce the shock impact. Consequently, helping in reducing the austerity of the shin splints. The design of this shoe offers you sufficient control of footfall. Despite its featherweight (8.9oz), it has enough cushioning to distribute the landing impact.
The Cohesion 13 has a supportive insole that keeps your foot in place. With this feature, you can consistently imitate your natural footfall.
The versarun foam midsole makes it both comfortable and springy. Still, Saucy Cohesion 13 has quite a technical midsole with no added extras. It has no support between the forefoot and the heels; hence, it is purely for natural runners.
The upper layer reinforces the technical image of Saucony Cohesion 13. The PU overlays support the mesh to give the shoe an outstanding shape and sufficient aeration. Still, it is a heavy-duty upper layer with no woven features. This feature makes Saucy Cohesion 13 a practical running shoe that can maintain its look even during a muddy run.
The outsole has flex grooves and cored-out rubber on the heel area to offer stability by increasing traction.
The Cohesion 13 is a neutral shoe for forefoot strikers. It is well-cushioned to reduce both leg and foot strains. It is a great shoe if you are suffering from shin splints. Besides, it is very affordable for someone with limited budget. Also, it is durable.
Cons
It is not a long-distance running shoe.

It is not waterproof.