Philip Brady on September 9, 2021
Good pair of socks keeps the foot dry, cool, or warm regardless of the weather condition. It is then necessary to choose socks based on materials with good moisture wicking, comfortable and durable features. Interestingly, the traditional cotton socks hardly get the job done because they have high humid retention.
What materials do you need to look for?
Cushioning has a lot to do with the thickness of the socks. The problem is that as you go thicker, the socks eat up the space inside the shoe. Eventually, it affects fitting.
Therefore, one needs to balance by looking at the amount of space in the shoe. If the shoe has a snug fit, go for a thick cushioning underfoot. Thickly cushioned socks are appropriate if there is much room in the shoe.
Other factors like moisture-wicking must be considered by a runner to ensure that the foot remains fresh and comfortable at all times.
It will help if you also have a pair of socks to protect your skin from dirt or scratches, especially when running on a trail. Here, sock lengths matter, so go for crew-length socks.
Type of Running Socks you need to know
Crew socks: Sits above the cuff (6 to 8 inches from the heel) and comes in different lengths. There is a standard length, ¼ or 3/4.
Quarter socks: Covers the entire ankle bone
Ankle socks: Sits on the ankle bone or slightly under the ankle bone
No-show socks: They are not visible when worn because they sit right under the ankle bone.
Max Cushion: Has additional padding underfoot with an immediately noticeable thickness that takes up spaces within the shoe.
Medium cushion socks: Slightly less padded than the max-cushioned socks. It bears some padding underfoot and slight thickness that takes a bit of available space within the shoe.
Cushion socks: Lacks additional padding.
How We Carried Out Testing
When determining the best running socks, our testers focused on socks that perform well on odor control, comfort, moisture management, durability, and overall value for running. Among the testers are those who have sweaty feet.
Testers went for top-selling brands for easy sampling and proceeded to test them all year across various conditions like extreme cold, humid, hot days, rainy and dry trails. We mainly relied on on-foot impressions.
Testers also carried out moisture-wicking tests on various fabrics like polyester, silk, wool, bamboo, nylon, and spandex through the vertical moisture-wicking test. We measured the speed at which dye water moved up the socks fabrics to determine the moisture-wicking rate.
Best Cushioned and Breathable Ankle Socks
Cooplus Ankle Socks
Ankle socks
Cushioning, support and breathability
---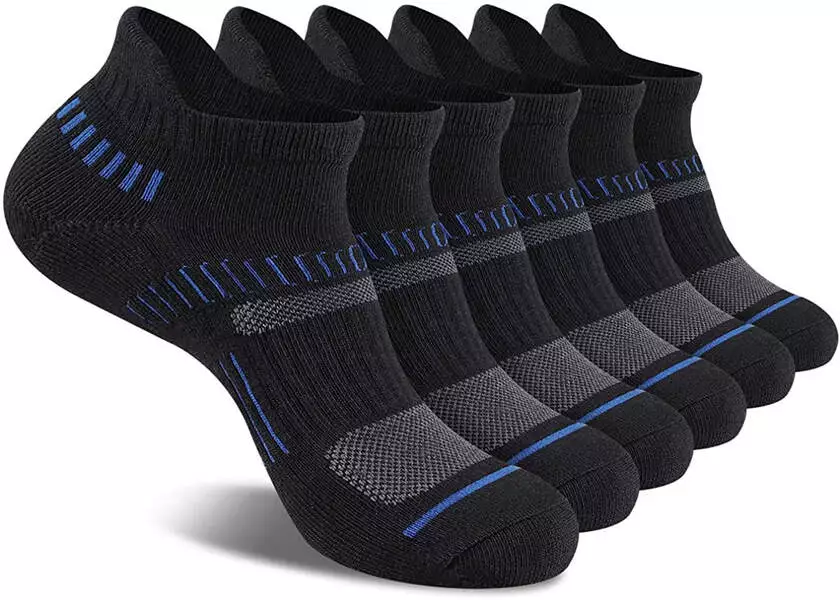 Pros
Highly breathable

Arch-hugging ad cushioning

A heel tab for preventing blistering
Cons
Can feel tight when wearing for the first time, but stretches with time

Can't wear it on trail

s
One of the testers had trouble getting the best ankle socks that stretch well to fit size 11 without leaving a trace of overstretching and can hold well and not cause blisters. Cooplus ankle socks were the best choice because of their soft, arch-hugging, and comfortable features. In addition, they demonstrated quality design all-around.
Cooplus ankle socks have a combination of spandex, nylon, and polyester. The polyester yarn on the heel, ankle, and bottom combine well with mesh in the ball of the foot and instep to offer both breathability and cushioning. The Spandex bands ensure that it holds up well and does not lose shape after frequent washing. A heel tab at the back prevents blistering.
"Wearing it felt tight in the toe area for the first time, but I got comfortable after a short stretching time. I also did not have an issue with the fitting. I liked the cushiness," said one of the testers. Cooplus Ankle Socks sit perfectly on the ankle bone. It offers excellent arch support and ground impact absorption. It is not for everyone who wants arch support but for someone who wants ankle socks with a bit of cushioning and breathability.
BEST FOR BLISTERS RESISTANCE
Balega Blister Resist
Now Show-anti blisters
Medium Cushioning
---
Pros
Seamless snug fit and breathable

Excellent anti-blisters and order resistance.
Cons
Less protection on trails because of low cuff height.
Running in the wrong pair of running socks enhances rubbing in the toes, causing blisters, and with poor ventilation, you create excellent bacteria breeding grounds. Good anti-blisters socks have a seamless toe box with mohair fabric that wicks moisture effectively.
Balega socks guarantee comfort and good ventilation when running in hot and humid conditions. It has moisture-wicking fibers with mohair knitting to prevent friction while enhancing snug-fitting. The ventilated top panel enhances breathability to keep the foot cool and dry.
Testers confirmed blisters resistance in prolonged running and stink-free after a couple of recycling. In addition, it has a medium cushioning underfoot. "They have a good grip around the feet, are well-cushioned, very breathable, seamless and reasonably attractive with no logos," said one of the testers. They hold up well and sit nicely under the ankle bone.
Best for All Seasons
PURSUIT
Mid-cushioning
Crew running socks
---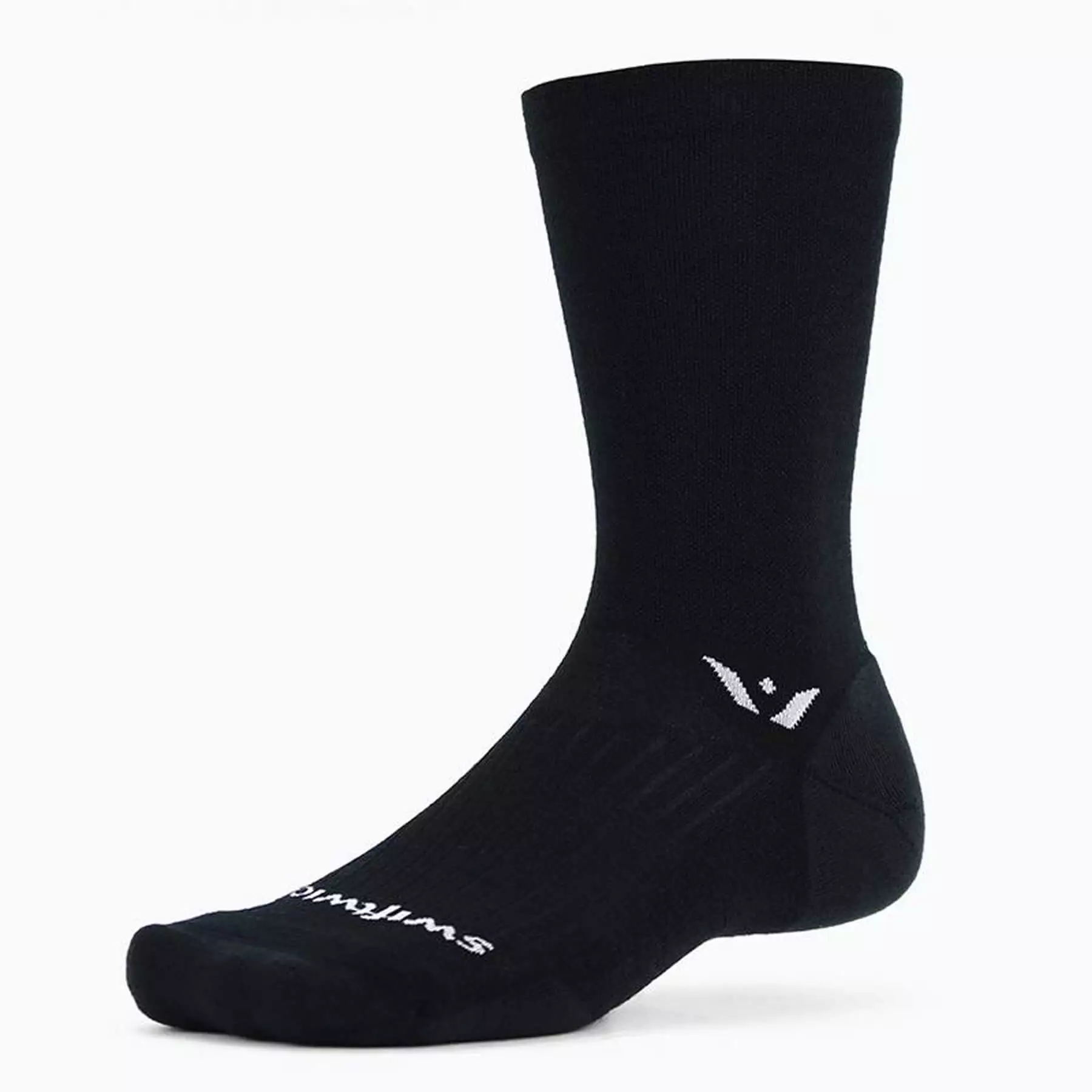 Pros
Good Moisture wicking

Specific fit from X-large to small

Snug-fitting
Cons
Costs more

Single cuff height
Testers declared Swiftwick to be a great crew running socks for use across outdoor activities, including trail running and cycling in all seasons. It is an all-season crew pair of socks because of the soft merino wool, adequate compression, and extra calf protection. So they hold up well and keep the foot warm even in extreme conditions. It has medium weight but with superb moisture-wicking capabilities.
The seamless toe makes Swiftwick blister-free, and heel and toe areas are well reinforced to reduce abrasion. The merino wool helps put odor away. It has good compression for a snug fit, is soft, easy to wash, and dries quickly by hanging. Runners found it quite durable.
Asics Cushioned Low Cut Socks
Low Cut Socks
Cushioning
---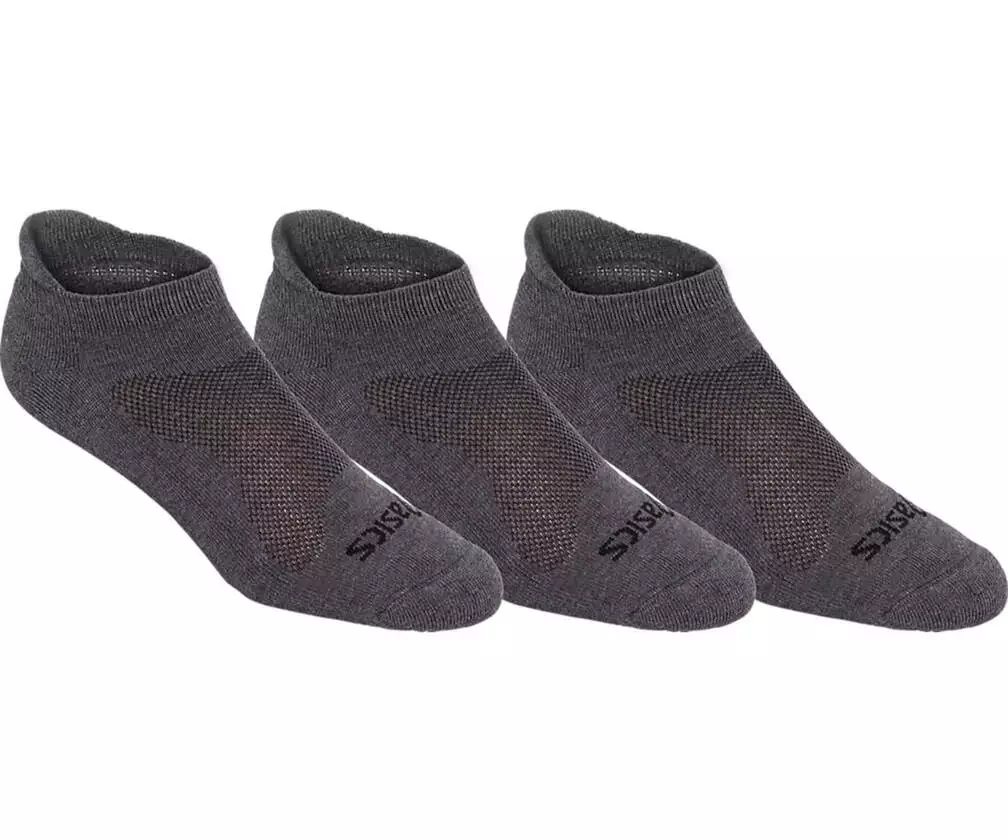 Pros
Very quality at a bargain price

Soft, comfortable, and breathable
Cons
Beyond the simple budget is quality, comfortable, breathable, and snug-fitting low-cut socks. Asics is a non-cotton low-cut sock that exhibits comfort, exceptional moisture-wicking and quality retention even after several washes.
Polyester accounts for up to 92 percent of material construction, with nylon and appendix constituting 5% and 3%, respectively. There is adequate cushioning throughout the sole and engineered mesh in the instep for enhanced breathability. The material is pretty thin at the top, thus good moisture management.
Testers found them somewhat stretchy, not restrictive, and soft, and they don't shrink. Testers also found them supportive in the arch but quite thick underfoot due to padding. So, they can hold up a small amount of odor in the heel and toes.
The low price is a bargain considering that Asics cushioned low cut socks rivals those that command higher prices for quality, softness, fitting, long-lasting elasticity, and moisture-wicking. Besides, the socks lack funny prints and patterns, so it easily pairs with any running shoes.
BEST IN MOISTURE WICKING
Balega Ultralight No Show
No show socks
Moisture wicking
---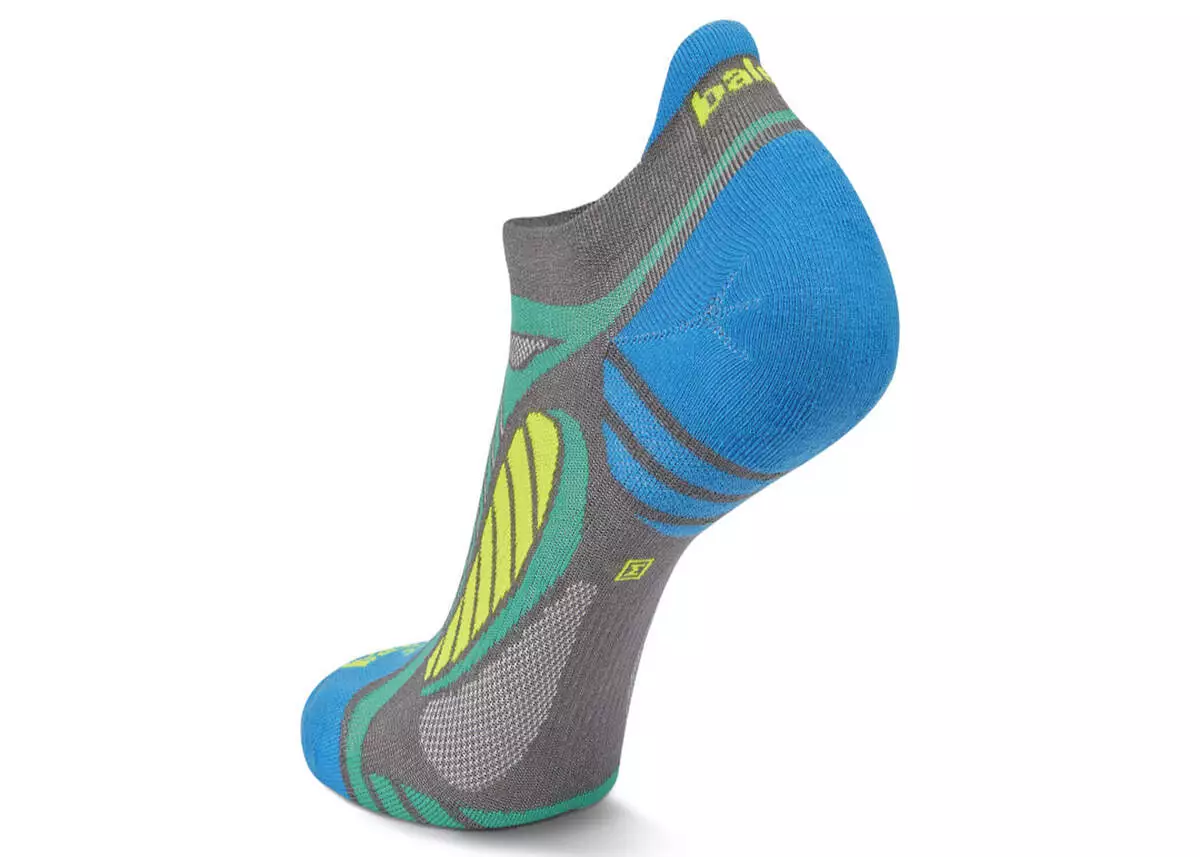 Pros
Stretchy

Thin, highly breathable, and comfortable
Cons
Not enduring socks

No protection on trails
Balega Ultralight socks are for runners who love thin and seamless no-show socks. They are way thinner than the Balega resist and have a considerate amount of padding underfoot to provide cushioning. Balega Ultralight socks are exceptionally thin with no iota of cotton. Testers found them very elastic and stretch well to give a snug-fitting.
They are handcrafted with polyesters, nylon, and elastane material to provide a minimalist feel. They also have heel tabs to prevent them from rolling inside the shoe. Testers did not experience signs of blistering, and they reported feeling comfortable throughout the runs. However, testers agree that Balega Ultralight socks are not enduring socks.
Also, it would be best if you got more pairs for the rest of the week. Other than the comfort, and good moisture management, there are many colors to choose from.
BEST CUSHIONED CREW
MONFOOT Athletic Cushioned Crew Socks
Crew Socks
Cushioning
---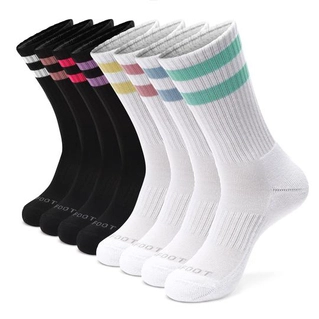 Pros
Maximum cushioning and underfoot padding

Good ventilation for the foot to breathe well.

Different sizing and true to size fitting
Cons
It can feel tight to some runners.
Monfoot crew socks are cut as an unpopular brand until you get to try them out. The premium pricing placed on them says a lot about these socks. They are thickly cushioned, huggy and soft. Monfoot sock is made of 98% polyester and 2% spandex and has a bit of arch support and exceptional moisture control.
The bottom has extra thickness with good instep ventilation.
They stay fresh throughout the run. Testers also confirmed that these socks could prevent blisters, especially when wearing running shoes with extended heel flare. They also have a good length and can stay in the mid-calf without slipping when running.
MOST STYLISH
HUSO Quarter/Ankle Running Hiking Socks
Quarter/Ankle socks
Medium cushioned
Lightweight but slightly heavier than summer running socks (middle-lightweight)
---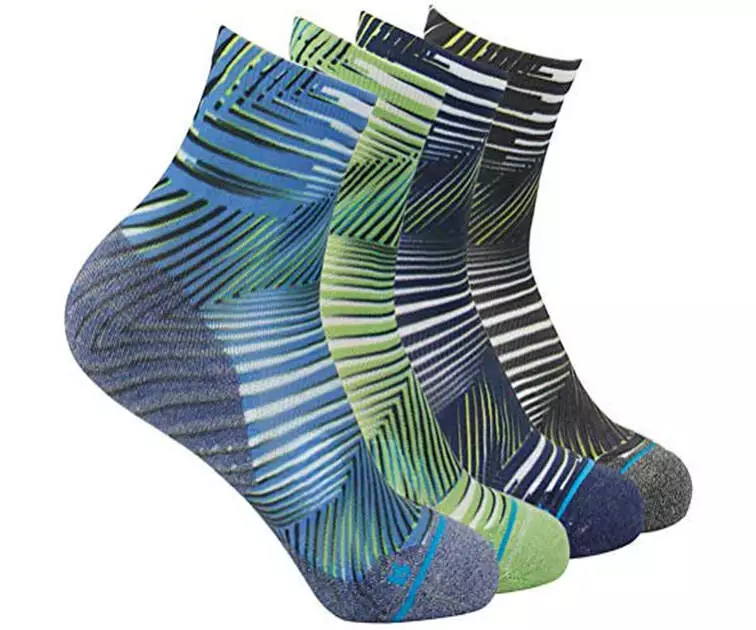 Pros
Comfortable

Excellent for trail running

Striking print design
Cons
Low cuff height, so less protection when running on trails

Unisex
When it comes to style, HUSO takes the mantle. HUSO running socks have striking looks that make a runner feel energized. Not only do the quarter ankle socks have eye-catching digital prints that make them attractive, but they also have performing features.
They offer premium comfort. The sole is cushioned with a distinctive heel area, and the toe area has seamless padding to prevent blistering. The engineered Sorbtek fabric offers superior fabric control to keep the feet dry and cool in hot and humid conditions.
Our testers reported excellent moisture-wicking and enough arch support because of the compression strap from the midfoot and around the arch. They are very stretchy, flexible, soft, and very grippy. HUSO ankle socks come in a variety of colors, and they look great in any running shoes. They are also thin enough to accommodate tight-fitting shoes. Testers reported that HUSO ankle socks maintain shape after regular washing and drying.
BEST FOR LONG-DISTANCE RUNNING
Smartwool PhD Pro Endurance
Light cushioning
Crew: Cuff height
---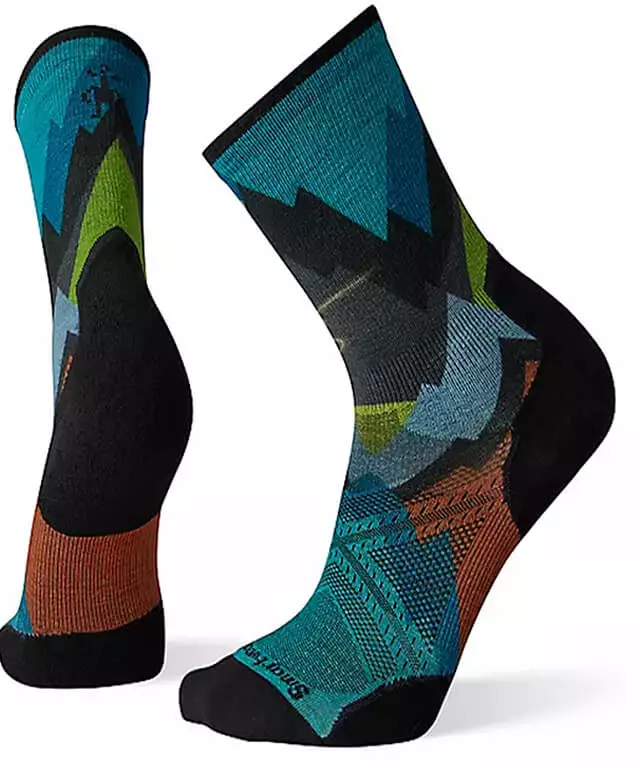 Pros
Have women and men specific fits

Comfortable, seamless, and durable

Excellent moisture and odor resistance
Cons
Quite Pricey

Cuff height is limited
PhD Pro Endurance Crew socks are the creation of a partnership between Smartwool and Rob Krar. They are made explicitly for long-distance runners. They feature a 4 Degree Elite Fit System that forms a flex zone in the ankle and seamless toe for improved comfort. Nylon, elastane, and merino wool make up the PhD Pro Endurance Crew socks.
There is light cushioning underfoot with a little bit of padding to protect the heels and toes from abrasion, especially during long periods of running.
The soft padding is extended into the Achilles and ankles, and we confirmed that all critical areas are protected when running. Our testers tried PhD Pro Endurance Crew socks throughout the seasons and were satisfied with moisture management in hot, cool, and humid conditions. They also hold up well, are soft, easy to wash, and maintain elasticity after washing.
---