Pros
Padded and warm upper

Stable

Affordable

Roomy toe box

Stretchy mesh upper

Responsive and bouncy midsole

Comfortable over long runs
Cons
Too warm to wear on a hot day

Pretty heavy
Take Away
Nike React Miler 3 is a well-cushioned road running shoe with new engineered mesh materials that make it comfortable and warmer for a cold day. It is also protective and smooth, and performs well across all distances and paces.
Nike React Miler 3 Upper Design and Fitting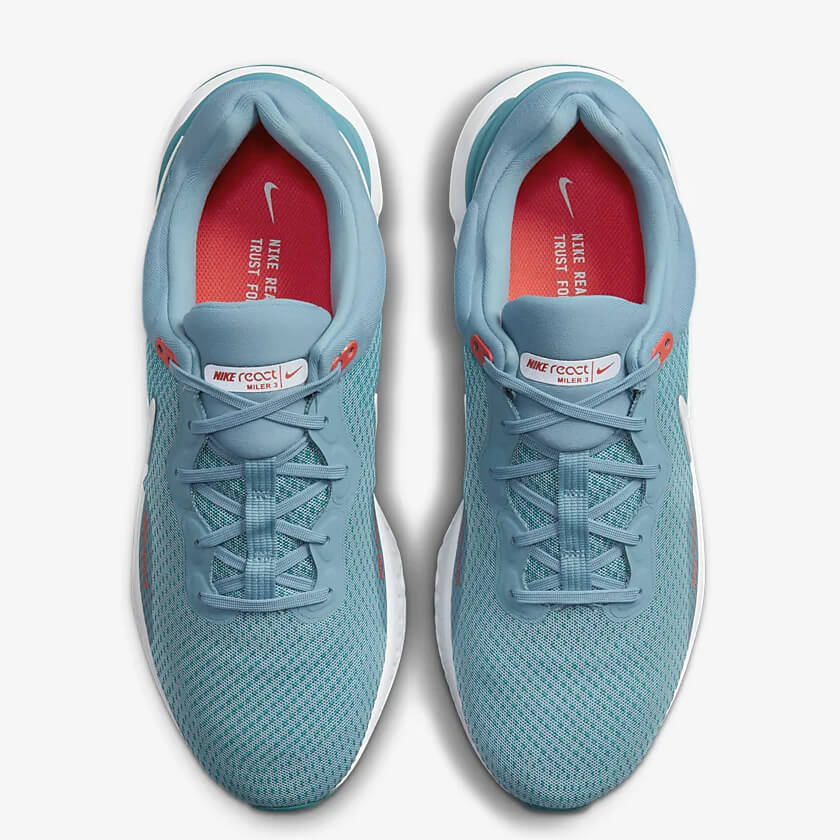 The Nike Miler 3 features a new mesh material, and according to Nike, the choice of the mesh was based on the runner data. This mesh is stretchy, flexible, and pretty thick. Thus, it keeps the foot warmer. I find it not as breathable as the previous version due to the closely knitted mesh that leaves little room for perforations. Hence, there is significant heat retention, which akes th Miler 3 perfect for a cold day running.
The upper has a new tongue, though not exceptionally executed. I find it somewhat large, bulky, and overly simple.The over sized tongue adds unnecessary extra volume to this shoe and kind of kills the good vibe radiated by the newly upgraded upper mesh.
Though Nike Miler 3 is not an upper-tier premium shoe, Nike should have given it a befitting tongue. This tongue is 7.9mm thick, compared to the 6.0 mm average tongue thickness. Besides, the lack of perforations makes the tongue retain a lot of heat. This is a big issue if running a hot or humid weather.
The good thing about this tongue is that it is padded. The plenty cushioning helps protect the top of the foot from the pressure exerted by laces.
The Miler 3 also comes with a removable thickly padded insole that forms a comfortable footbed.
The collar and ankle areas have significant padding for comfort and enhanced foothold. The stretchy mesh also cradles the foot nicely, while the roomy toe box combines well with the stretchy mesh to accommodate a wide foot. Nike also gave the React Miler 3 a new heel clip that wraps around the back of the heel to provide a secure lockdown.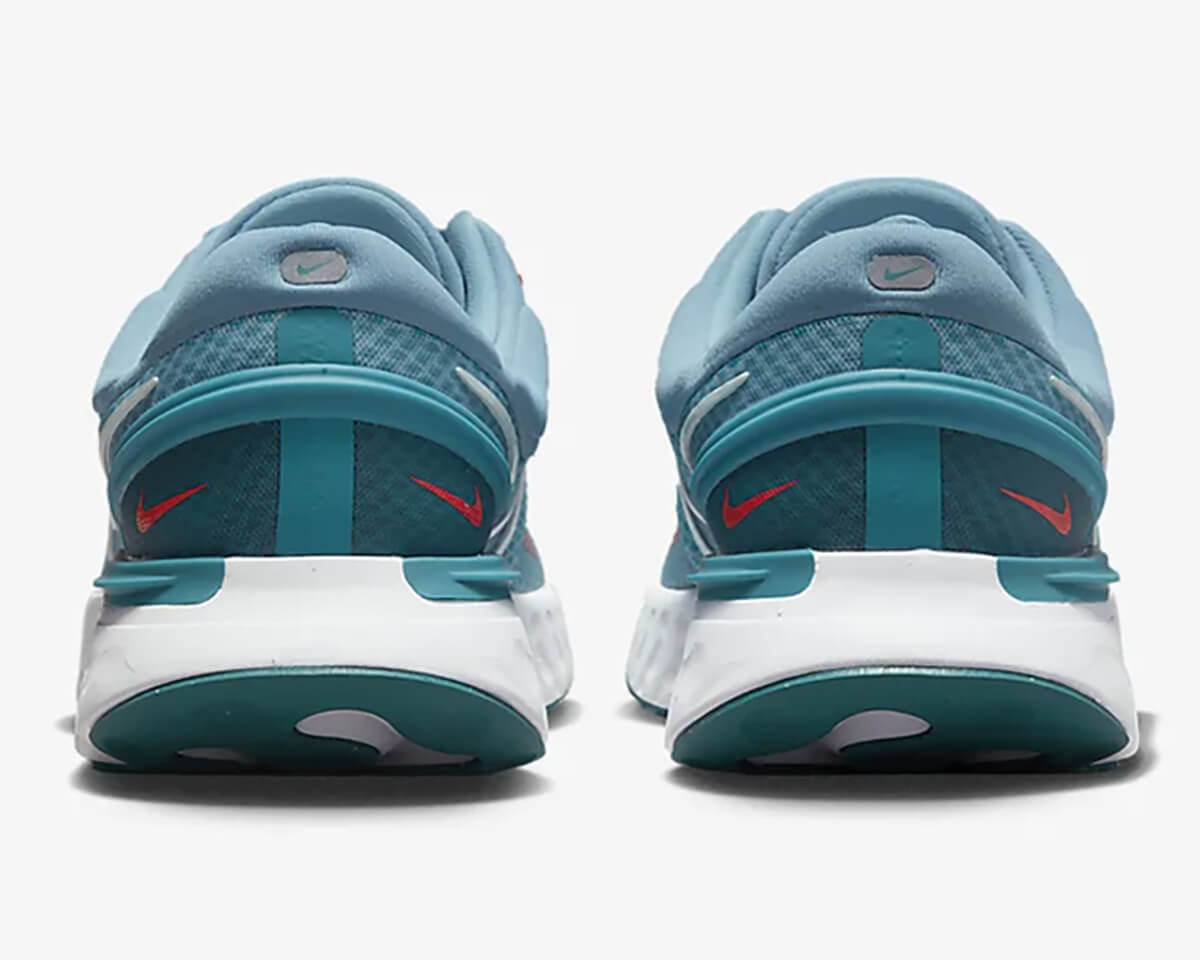 The heel section of Miler 3 is pretty stiff and less restrictive. It doesn't slip!. Unfortunately, two runners I interacted with reported heel slippage. One said that he had to change his foot strikes from heel striking to midfoot striking to feel comfortable. However, most runners, including myself, are confident with Miler 3's overall lockdown.
Nevertheless, I closely examined the heel area to understand why a particular runner may have issues with the heel. I found out that the heel section of Nike React Miler 3 is about 5 mm narrower than most running shoes.
Overall, the Miler 3 has a comfortable, warm, roomy, and accommodative upper. The inner lining and padding make it exceptionally comfortable for long-distance training.
Nike React Miler 3 Midsole Design and Performance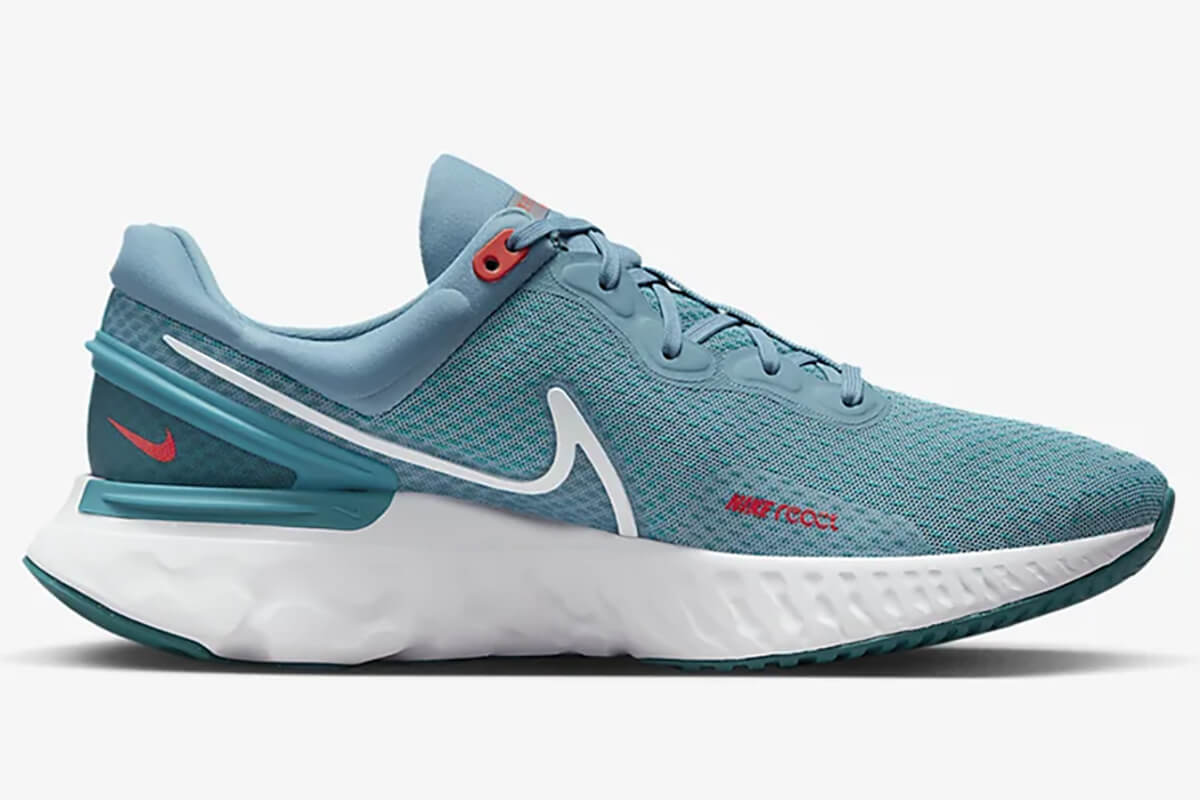 The midsole of React Miler 3 is entirely React foam but has an exciting shape and aesthetics compared to its last two predecessors.The midsole bears a resemblance to the Nike React Infinity Run.
The forefoot has a rocker motion slash shape. While the Nike Miler 2 is somewhat longer, Miler 3 has a more condensed length and curves upwards pretty to create a rockered motion sensation. Besides, the beveled heel makes the heel-to-toe transition smooth.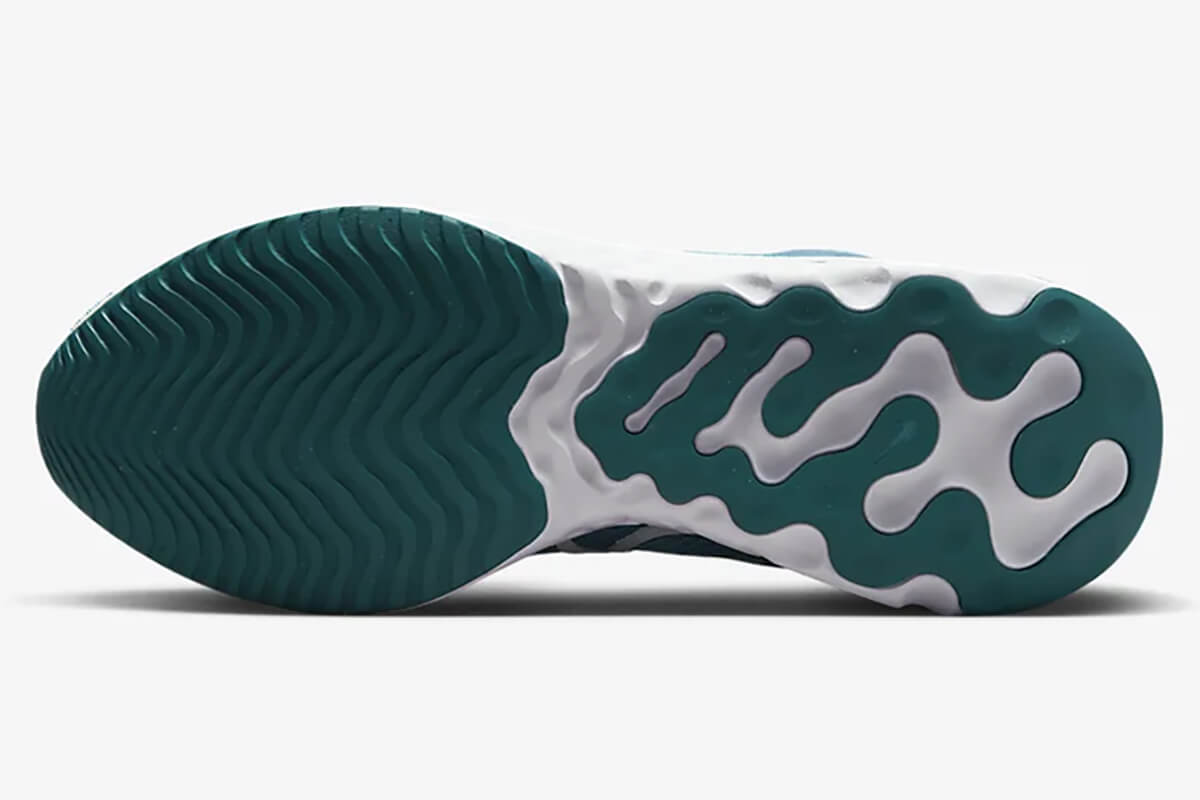 The Redesigned Outsole
The outsole design is contestable. The React foam is highly exposed, and the firm outsole rubber is really thin (2.4mm). Hence, this outsole is less grippy than the one in Nike React Miler 2. Still, it is stable and grippy enough for a road running shoe, considering its wide platform.
Stability
Despite removing the extra support arch that was featured in the previous version, the React Miler 3 still provides substantial stability that becomes noticeable during long runs. The wide-toe box remains consistent with the previous version and is partially noticeable during landing. Still, the previous version offers more stability because of extra arch support and outsole grip.
The ride is firm yet Responsive.
Because of the React foam, the midsole rides pretty firm yet responsive and bouncy. Unfortunately, Nike Miler 3 is less snappy than its predecessor. Despite the stiffness, the overall cushioning is good. It breaks in and softens ups with time. At 180 miles at the time of this review, this shoe feels softer than when it was new.
I have also noticed that the Nike Miler 3 midsole stiffens when exposed to cold, just like the New Balance SuperComp Trainer. Even with the freezing, it doesn't lose much of its softness.
The 9.9 oz/280g can be noticeable at times under the foot, but it does not affect the ride in any way.
I am bothered that Nike Miler 3 lost its identity by trying to be a cheaper version of the Nike React Infinity Run 3. The Nike Miler 1 and 2 are unique and recognizable from other Nike running shoes.
While the Nike React Miler 3 gets the job done, the lack of the Arch support, which was present in the last two versions, which was not too noticeable but highly appreciated for adding stability, makes this shoe quite different.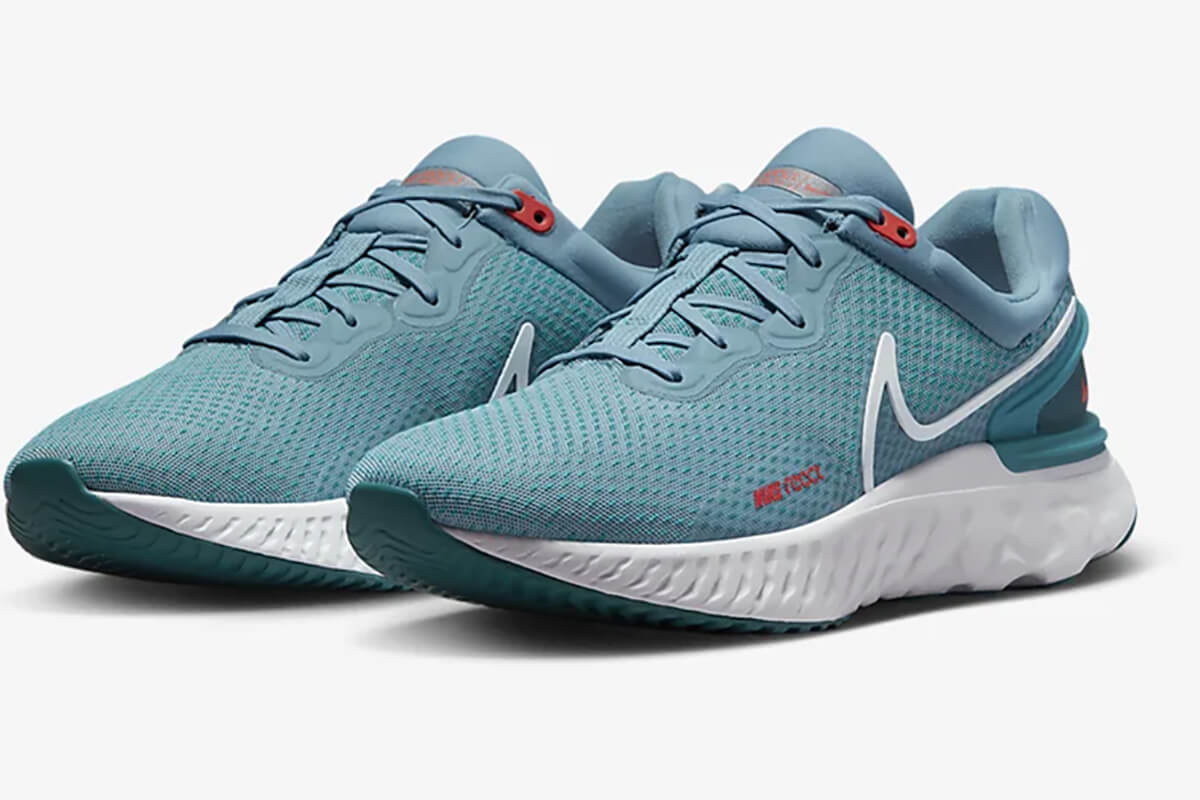 What Is Nike Miler 3 Best for?
The Nike React Miler 3 sits between a daily trainer and a long-distance running shoe. The pretty firm React foam gives the shoe sustainability, which is necessary for daily training and long-distance running. Besides, it has a plush upper and forgiving outsole. The good thing about the React foam is that it softens with time; thus, it is a comfortable shoe for those who stand for a long time. the Miler 3 leans more toward long-distance running shoes than daily training.
Besides, the upper is pretty denser than the previous version, so it is a good option for running in a cold morning, day, or evening.
Who Should Buy Nike React Miler 3?
Miler 3 suits people looking for comfortable shoes for long and short runs, walking, and standing for long periods. Runners with wide feet should consider the React Miler 3.
Nike React Miler 3 is also a neutral running shoe that suits people with neutral pronation and supination or under pronation.
Who Should Not Buy Nike React Miler 3?
However, the Miler 3 will not suit those seeking highly breathable and marshmallow-cushioned running shoes or those looking for extra security in the ankle like the Nike Revolution 5.
The Nike Miler 3 is designed for running and walking. It can also be used by those standing around for a long time. It has a pocket-friendly price for its quality and performance. It suits a runner who doesn't want to spend a fortune on a running shoe but needs daily training that gets the job done and can wear it as a casual shoe.
Specs
Weight 9.9 oz/280g (M)
Heel Drop 10MM
Arch Support Neutral
Terrain Road
Best for Daily Training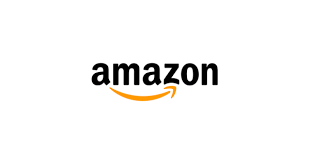 Reviewed by Dick Harrison
Harrison is an Australian who lives in Sidney. He trains for fitness and does it like a pro. Harrison has the experience of running in various running shoes and understands the technology behind each shoe model he has worn.